You have decided that you want to host an outdoor viewing experience. Whether you are running a community event or a private backyard get-together, a big outdoor screen is a great way to gather community and create memorable experiences.
You have a number of options for sourcing your display, from large display rental to purchase and LED to projection. Each option will vary significantly in regard to price and functionality.
We are going to answer everything you need to know about sourcing a display so you can choose the perfect option based on your needs and budget.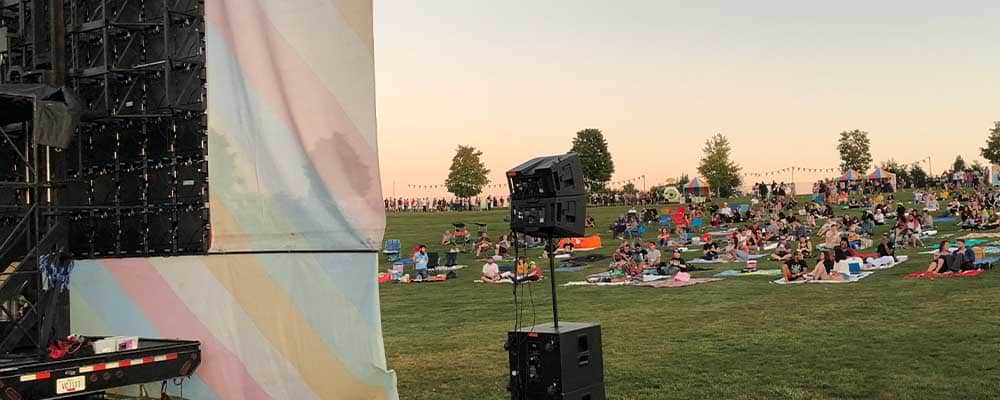 1. Outdoor screens vs. traditional displays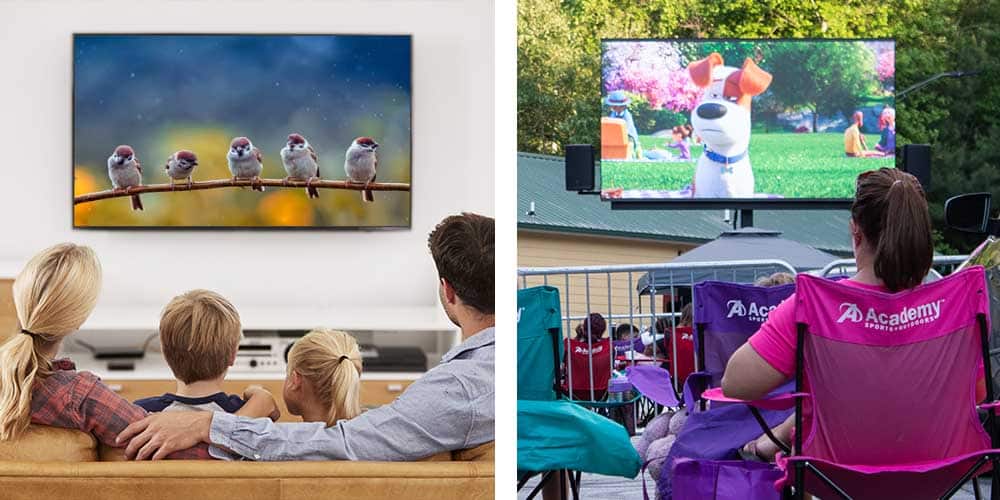 SIZE
The biggest difference between outdoor screens and traditional indoor ones is their size. Outdoor screens are larger to accommodate far away viewing distances for crowds of people. The larger the screen, the farther away it can be viewed from and the larger the crowd that it can host.
DURABILITY
Outdoor screens are designed to withstand nature's elements. Whether that be rain, dirt, or wind. A screen's durability against nature's elements is measured as an IP rating, and an IP rating of at least 65 is required for outdoor use.
BRIGHTNESS
Outdoor screens need to shine much brighter in order to be seen under sunlight. Brightness of LED displays is measured in "nits", whereas projection display brightness is measured in lumens. LED technology allows bright enough viewing for vivid picture, whereas even the brightest projection screens are going to struggle under sunlight.
2. What are their uses?
Large outdoor displays can be used for private and public events alike. Here are a few popular applications:
PRIVATE USE
Movie nights
Weddings
Tailgates
Birthday parties
Karaoke
Bar mitzvahs
Anniversaries
PUBLIC/COMMERCIAL USE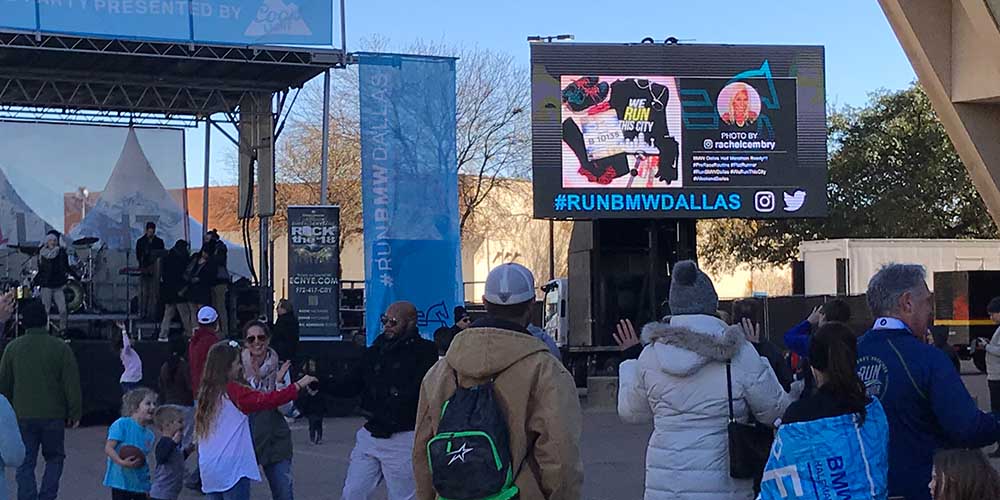 Concerts
Festivals
Sporting events
Fundraisers
Parades
Activism
Worship events
3. LED vs. Projection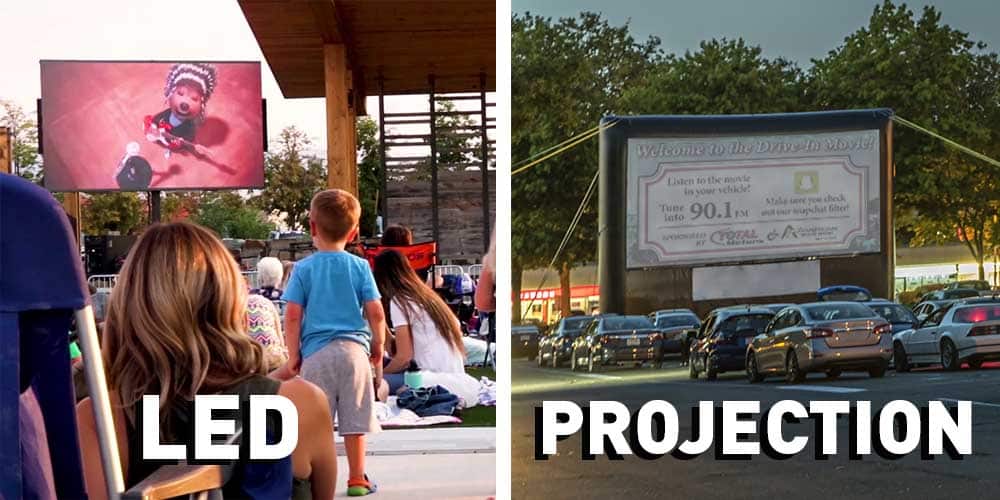 When choosing a jumbo outdoor display, you have two options, LED and projection. The two will vary drastically in functionality and the overall viewing experience that they offer. Here are the main differences between the two:
CONSTRUCTION
LED screens are modular in nature, meaning they are composed of individual panels at approximately 2'x2′ in size, then linked together to form a large display.  They are either constructed onsite or pre-fabricated onto a mobile apparatus.
LED screens are back-lit. Projection on the other hand requires the projector, an unobstructed amount of space, and a screen. The most popular construction for outdoor projection is an inflatable screen because of its ease of setup.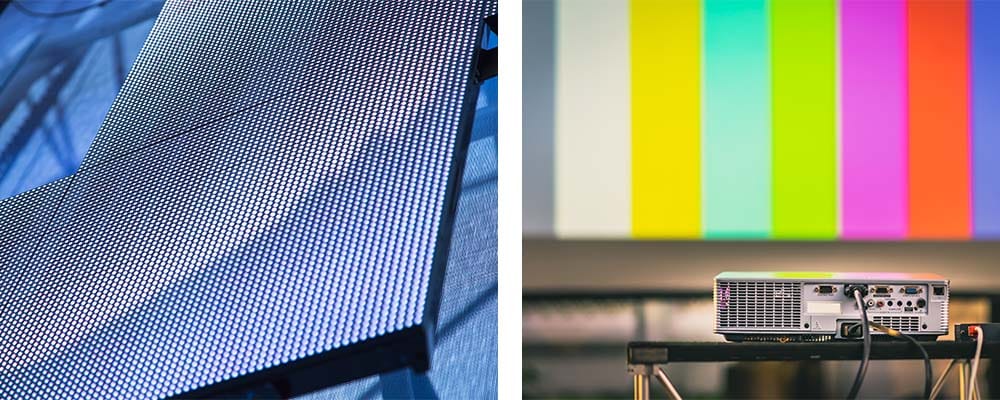 BRIGHTNESS  (LED WINS)
When it comes to brightness, LED takes the cake. LED screen brightness (measured in nits) packs enough power to be seen unfazed under the brightest of light.
In contrast, even the brightest projection technology will look very faint under sunlight – that is if it is even visible at all.
COLOR (LED WINS)
When it comes to color contrast, saturation, vividness, and overall quality, LED is the clear winner again.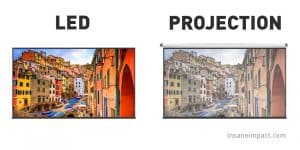 RESOLUTION (PROJECTION WINS)
Resolution is a measurement of the amount of detail an image holds. In short, the higher the number, the sharper the image will be.
In this day and age, pretty much all projection screens achieve full 1080p HD resolutions, sometimes all the way up to 4k.
LED walls on the other hand often times fall short of true HD resolutions. While full HD is very possible with outdoor LED displays, it is less common and could set your pocketbook back pretty far.
As the viewing distance becomes farther away, lower resolutions become indiscernible from higher ones. For this reason, screens that require close-up viewing may be better with the projection route or a very fine pitch LED.
PRICE (PROJECTION WINS)
LED costs quite a bit more to rent and purchase than projection does. However, if you are purchasing, you have to factor in the savings from LED's energy efficiency and longevity. Jump to pricing estimates here.
THE BOTTOM LINE FOR LED VS. PROJECTION
If you want to display your screen during the day, you will need an LED screen instead of projection. LED will give you the most vivid picture and versatility. On the other hand, if you event is at night, an inflatable projection screen will be much more economical. In general, LED rental is for commercial applications or those with a larger budget, whereas outdoor projection rental is for private get-togethers.
4. Big outdoor screen rental vs. purchase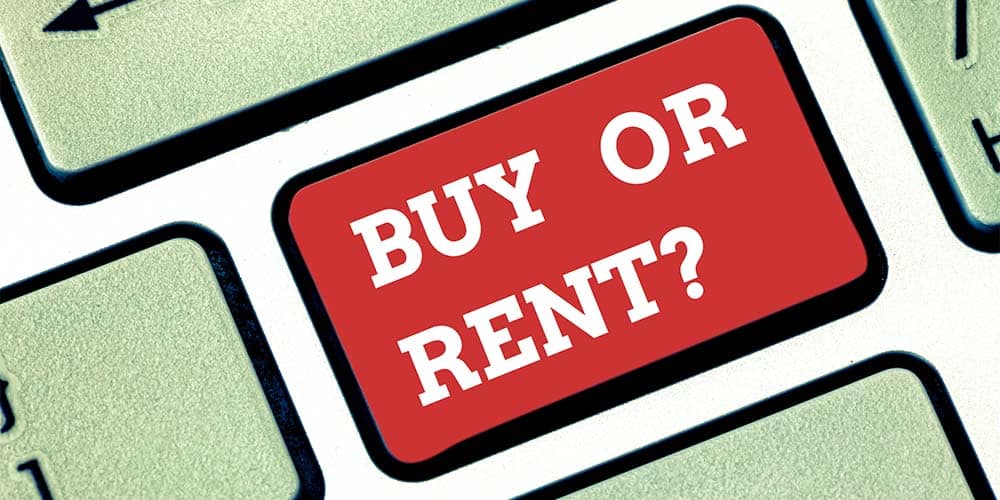 You have two options for your outdoor display, rental and purchase. If you only need the screen once or twice a year, then rental is probably your best option. However, if you find yourself needing these displays more than that, it may make sense to purchase your own screen.
BENEFITS OF RENTING A BIG OUTDOOR SCREEN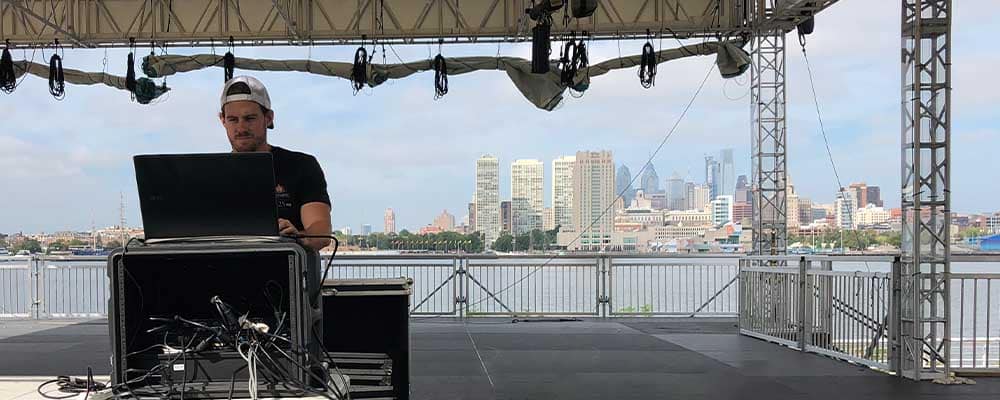 Service: When you rent a screen, you are also paying for the service. Rental typically comes with delivery, setup, and operation from one or multiple trained technicians. So all you need to do is order the screen, and your screen provider will handle the rest.
Price: Renting a screen will typically be much more affordable than purchasing one of your own
No storage: When you rent a screen, you don't need to worry about housing the large display components in your garage, warehouse, or storage facility.
BENEFITS OF PURCHASING A BIG OUTDOOR SCREEN
Unlimited use: After your one-time purchase fee, your only expense for running the equipment is power to operate the display, storage, and your time
Flexibility:  Large outdoor displays may be difficult to book, especially during peak season. Having your own screen will ensure that you can fire it up whenever you want.
5. Cost to rent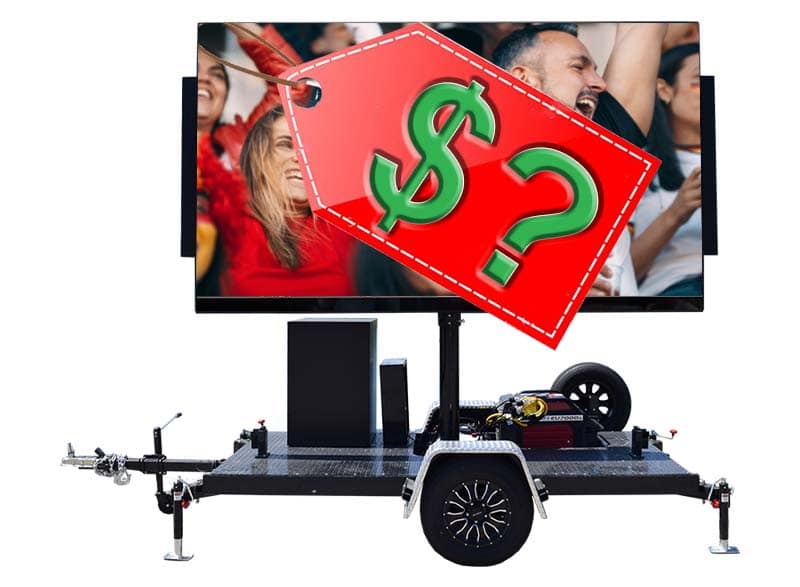 When you rent a big screen, pricing is typically charged based on the duration of your event and the technical specifications of your screen. While rates will vary based on this and a number of factors, here is what to expect:
OUTDOOR PROJECTION SCREEN RENTAL RATES – STARTING AT $300
Renting an inflatable outdoor movie screen starts at $300 for a local, 2 hour job with a small screen. This rate makes it quite affordable for private backyard parties. If you need the screen for longer, travel is involved, or you have larger screen sizes, then the rate can be upwards of $2,500 a day. So if you are renting an inflatable projection screen, you can expect to pay between $300 and $2,500 a day.
OUTDOOR LED SCREEN RENTAL RATES – STARTING AT $2,500
LED display rental, on the other hand, will start at a minimum rate of $2,500. This is because LED equipment costs more to purchase and operate. If you are renting large outdoor LED, then the rate can be all the way up to $10,000+ for 1 day of rental. For this reason, outdoor LED screens are typically rented by businesses that are hosting day-time events with large numbers of people.
6. Cost to buy
OUTDOOR PROJECTION SCREEN PURCHASE RATES – STARTING AT $500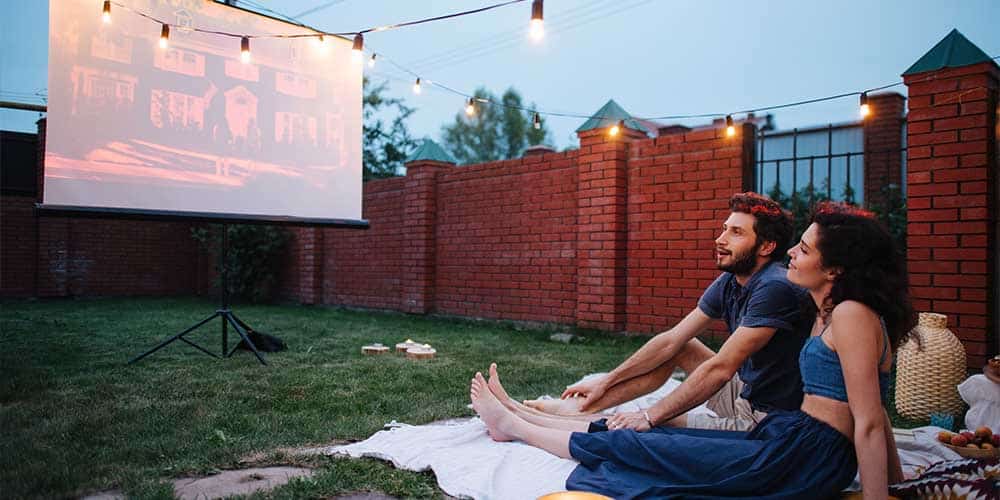 You can purchase a simple outdoor screen and projector bundle for as little as $500 on Amazon. Keep in mind that you will also have to incorporate audio, so this may add to the price tag. While the picture, durability, and overall product quality of such an inexpensive route may not be great, it could be an excellent option for simple movie nights in your backyard.
You can also receive high quality, all-encompassing outdoor projection packages from audio/visual companies that specialize in this. The price tag will be a bit higher, but the product quality and customer support will ensure that you are providing a first class experience.
OUTDOOR LED SCREEN PURCHASE RATES – STARTING AT $30,000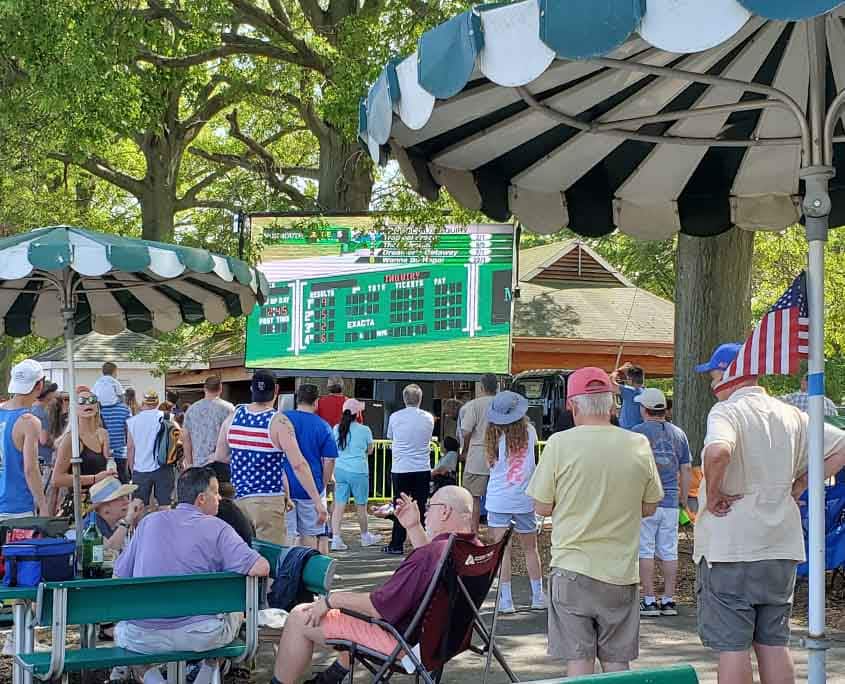 LED video walls are relatively expensive, for this reason they are primarily purchased for business purposes. If you are a production company, park and recreation professional, business/corporation, government entity, or event professional, then purchasing one of these could be an excellent option. A purchase will come complete with an advanced warranty, replacement parts, and customer support. You can also recoup your investment from ticket sales and advertising revenue.
If you are looking for a popup screen with fast setup and all onboard components, we suggest purchasing a mobile LED screen. You may also purchase modular LED panels, but this requires hours of setup time by rigging professionals.
Conclusion
Big outdoor screens are an excellent way to gather large crowds for unique, fun experiences. Depending on your display needs and budget, you will want to decide between LED and projection, and rental and purchase. For a private event, we suggest renting or purchasing pop-up projection screens. For business applications requiring daytime viewing, LED is the way to go.